Posted
April 17, 2012 by
in PC
Nexuiz Review
The first thing I thought to myself is "this looks quite a bit like quake". Believe it or not, Nexuiz is a Quake mod turned into a full game. The entire classic shooter feel is there, with addictive fast paced 4 on 4 gameplay and plenty of goodies to stop the game from getting too stale.
The story of Nexuiz is highly irrelevant, and definitely is not what players should be aiming for with this title. Two rival races are pitted in arena combat across the universe. Little blurbs during loading times give players insight into this, but in the end it really doesn't matter. What Nexuiz is offering is a great alternative shooter experience.
Nexuiz is the first downloadable title ever to use the CryEngine 3 (an engine made famous by Crysis 2), and it looks absolutely gorgeous. Though stage appearance only varies slightly between forests and city styles, everything looks very sleek. Arenas themselves never get tiring, as they all consist of several tiers and are generally small, so action never slows down at the games shockingly fast pace.
What sets the gameplay apart from other classic shooters is the additions of "mutators". Each mutator can have an effect on the entire game, such as giving the user invulnerability, changing the opponents controls, or making players wear sombreros. With such a huge variety, each battle will feel unique from the first. Each stage also has a built in "Strength" power, which, when obtained, makes its controller a force to be reckoned with. I call it the "ka" power, due to the symbol resembling a japanese romaji. This combined with 9 simple but fun weapons, makes for a shooter that is perfect for anyone who just wants to get in there and fight.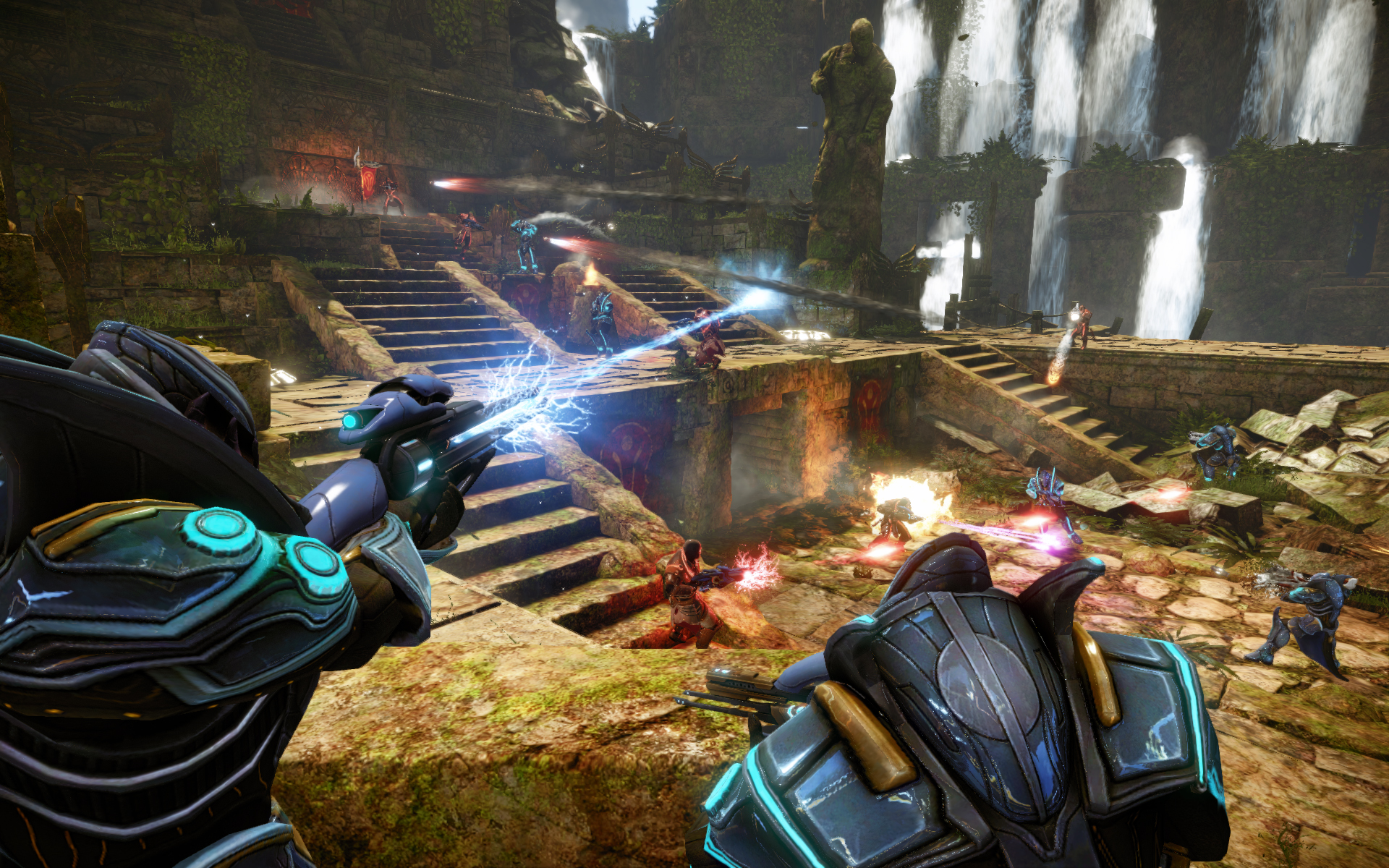 The most important part of this experience is the online, which is a lot of fun. However, I experienced some laggy patches, as well as long loading times. If you don't have a connection to your Xbox, or friends and you still want to play, the game offers a "Bot Training" mode which will pair you up with computer controlled players. However, these bots are nothing in comparison to human opponents.
Nexuiz is a fun game, and is perfect for anyone who isn't into the overly-complicated multiplayer shooters of today. It offers a throwback to a classic multiplayer style and will offer hours of entertainment with little effort. If you've ever though " I just want to run around and shoot things", then you should definitely check out Nexuiz.
RATING:
7.0 Presentation
The story's simply not important, and the online connectivity adds risk to the gameplay. But the simplicity of jumping into a match and variety of Mutators keep things good.
9.0 Graphics
The levels, guns, and players all look beautiful using the shine of CryEngine 3.
8.0 Sound
The beats accompanying the game are fantastic, and the sci-fi sounds of combat are great. The beats accompanying the game are fantastic, and the sci-fi sounds of combat are great.
8.0 Gameplay
The speed is great once you get the hang of popping headshots, but matches don't balance when someone drops out and lag can kill the experience.
9.0 Lasting Appeal
Constantly evolving leaderboards and maxing out Mutators adds a lot of replayability to this online shooter.
8.0 OVERALL