So E3 is just around the corner and speculation is everywhere. Therefore I decided I wasn't going to let everyone have all he fun so here are 4 different announcements that will send everyone home happy. (Obviously not everyone will be happy but well, you can't please everyone.
Enjoy.
Kevin Butler in All Stars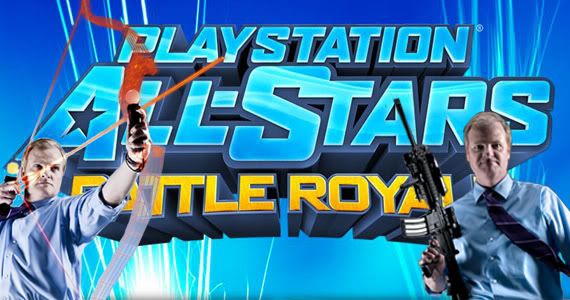 Kevin Butler has been many things. In fact his Wikipedia page lists 46 different job titles he's had while working with Sony. These range from 'VP of Big Action Moments' to a 'VP of International Diplomacy'. A man of many skills you could say. But has dear Kevin ever made an appearance in video game form? Nope, but what better way to start the ball rolling then to give him a place in upcoming Sony mash-up 'Playstation All Stars: Battle Royal'.
I must say at this point that the inclusion of Kevin Butler in this game is almost certain but until they announce it there will always be a small chance he might not make it. A chance we cannot take. If at E3 a demo or even trailer gives us a glimpse of him in this game then it would be great fan service and great publicity for Sony from gamers. Of course having the inclusion of Kevin Butler in the game would also help to develop his character and cement his legacy in the world of gaming.
I haven't even mentioned what kind of appearance he should make. Well it could only ever be one of two forms. He could either be a playable character with a move set taken from the adverts and the games he was advertising. For example he could use the move controller in its bow form from for long range attacks or maybe the gun attachment from the Resistance 3 advert. (Or you could have him use Move controllers for all his attacks). The only other way he could make an appearance in the game would be as some sort of overlord of the game. A shadowy master figure behind the scenes. He could be used by the developers as the reason for the game worlds to exist in the first place. Either its a dream he was having or he was getting way too excited with some action figures?
It doesn't matter what role he takes in the end so long as he makes an appearance in game. Come on Sony make his the surprise reveal during the press conference demo….please?